Main products index - CLICK HERE
RIFE Frequency Generators



Scroll Page for Listing of Frequency Generators


We Offer a variety of Rife frequency generators that employ various types of energy transmission
including Radio Frequency, Noble Gas tube instruments, Ulrasound Generator and Electrical Pulse
A Broad Spectrum, Ultrasound Frequency Scanning Rife Generator with 45 minute timer. No individual frequency selection. Covers all known (as well as unknown) frequencies into the tens of millions of cycles per second. Internal programming routines specially target known Rife frequencies. The Ultrasound Rife generator eliminates the guesswork of correct diagnosis and accurate frequency selection.

---
BCX Ultra - combines hand-held metal electrodes, footplate electrodes AND Noble Gas RF (Radio Frequency) tube technology for deep penetration. Select from over 1250 presets or custom design your own favorite programs. No other Rife Generator offers so many features. Complete details are listed on the BCX main page.

---
F-SCAN 3 - offers intuitive touch screen menus and the greatest programming flexibility of any Frequency Generator available. Unit operates in a Resonance seeking mode and Frequency correction mode. A sophisticated bio-feedback sensory system called DIRP sends out a selected series of frequencies into the body and then Detects AND Displays any Resonant frequency matches. Next, you transmit the corrective, rebalancing frequencies. Can be programmed for any beginning and ending point frequency match up to 15 million hertz and displays results on LCD screen. Many, many features.

---
Tesla Energy Lights - uses noble gas, glass tubes to create an electromagnetic field to recharge the cellular energies and help to neutralize pathogens.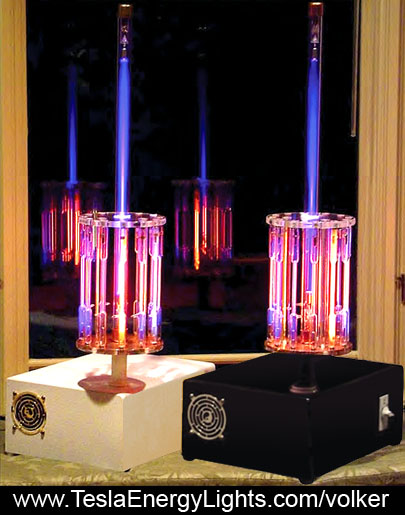 ---
The MWO Multi-Wave Oscillator is an adaptation of the historical Lakhovsky MWO of the 1930's. MWO broadcasts a rich spectrum of short, medium and long wave RF frequencies in order to balance the vibratory energy of every cell, according to the theories of Georges Lakhovsky. Includes a hand held glass bulb applicator filled with Argon gas (Violet Ray Tube) for localized applications, lymphatic stimulation and more.

---
Dr. Clark Vari-Gamma Generator

The Vari Gamma Generator by Dr. Clark Research . This hand-held frequency generator is light weight and portable. It is battery operated and comes with a complete kit including adjustable wrist band electrodes, body contact electrode, carry case and instructions. Versatile programming for frequencies from 1Hz. to 1 million Hz. with squarewave or sinewave, positive offset, frequency wobble feature, Hulda Clark Zapper program and much more. A full function Rife Generator at an affordable price!