Sota Instruments Woz-5 - part of the Sota Wellness Protocol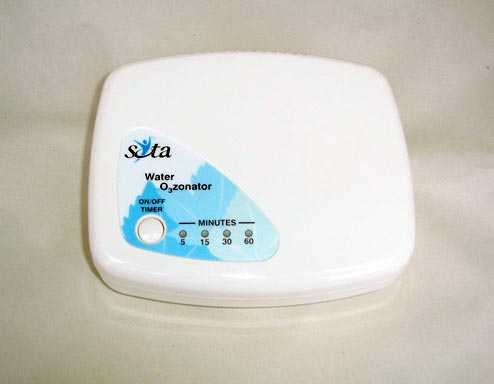 The Sota Instruments water ozonator is an essential part of the Sota Wellness Kit and is the result of several years research and development. This is a true 200mg. per hour ozonator that is built to last a lifetime. Ozonating your drinking water is a fast and safe means of neutralizing germs, pathogens, chemical residues, pesticides, pharmaceutical residues and more. The Woz-5 is constructed of the highest quality materials and is designed to offer many years of reliable service. It is our most expensive, highest quality water ozonator.

Sota Water Ozonator - Woz-5 - $380.00

200mg/Hr. at 2.0 liter per min. output
High Frequency Corona Discharge
Ozone concentration - 3.6 Gamma (ug/ml or mg/l) at 0.5 LPM
ORP (oxidation-reduction potential in millivolts) - unit takes less than 2 minutes to achieve a max. ORP of +1,000 mV in an 8 ounce glass of chilled distilled water. For 32 ounces, full ORP saturation would take less than 10 minutes.
Virtually zero oxides of nitrogen (NOx) output, per independent laboratory testing
Auto timer for 5 - 15 - 30 and 60 minutes
Power consumption - 1.2 Amps current at 12 Volts DC
AC to DC adapter included. This is a Universal adapter 110 to 240 volts
Built-in Air Pump - rated at 0.5 PSI at 1.5 liter per minute
Weight - three pounds (1.3kg.)
2 yr. warranty - parts and labor
---
A low cost safe portable energy efficient water purification system. This system neutralizes toxic chemicals and disease causing bacteria and virus. Nature Kleen produces Tri-Atomic oxygen when combined with water and releases oxygen to clean and kill bacteria and viruses in the water by oxidation. Nature Kleen is made in USA.
Nature Kleen - $259.00
U.S. Shipping - $15.00 Canada - $40.00
International Express Mail - $75.00

Complete Details Here


Features:
* Breaks down residual traces of toxic chemicals and pathogens on produce
* Kills bacteria on meat
* Enhances the taste of all food products
* Prolongs shelf life
* No filters to change
Complete Kit Includes:
* unit with 5 foot power cord
* 6 ft. flexible tubing
* round ozone diffuser stone
* anti-backflow check valve

Specifications:
Ozone output: 250 mg/hr
Electrical: 120V
Power Consumption: 14 W
Fuse: 2.0 amp
Weight: 2 1/4 lbs
Dimensions: 3" x 5" x 9 1/2"

Warranty: 1 year
Disclaimer: the Nature Kleen Water Ozonator is not a medical device. It is not intended for the diagnosis, prevention, treatment, cure or mitigation of any disease in humans or animals. It is not designed to affect the structure or function of any system in the body. If you have a health-related condition that requires medical attention, always consult with a licensed health care professional. Any individual results may vary.


---